By a resolution of Norwood Village Council, Ren Mulford, Jr., and
Werter G. Betty
were made the historians of the village. They had created a official souvenir book for the water works celebration.
Prior to the completion of the water works, the residents of Norwood had to rely on private wells, cisterns or streams to provide their water. On November 8, 1892, the citizens of Norwood had voted for a water system to be built. Wells were drilled, pipes were laid, a pumping station was constructed and a water tower was built. Finally, the growing village was guaranteed a steady supply of potable water—a reason to celebrate, indeed!
---
About the book
The book was published in April 1894. The number of copies is unknown. The original was 88 pages with a paper cover. Contrary to the statement
"It contains no advertisements. Not one."
in the book
NORWOOD, OHIO — BICENTENNIAL REMEMBRANCE
, there are
35 pages of advertisements
in the 1894 book. Pages 55 through 88 and the inside of the back cover were advertisements. A modern reprint only reproduces to page 62, with three additional bonus pages of photographs — one of homes on Floral Avenue, between Williams and Monroe Avenues, and another of the old Dexter Lumber Company on Montgomery Road and the old High School on Allison Street.
The book was an effort by several people and businesses. Ren Mulford, Jr., and
Werter G. Betty
were officially the authors, however, the actual working effort was probably as described in the 1977 book
Norwood, Ohio, Bicentennial Remembrance
:
"Ren Mulford did the editorial work; Mr. Betty attended to the business end."
Mr. Mulford, lived on Beech Street, near Norwood Avenue, in East Norwood. By profession he was a journalist, and was best known for his sports writing for many Cincinnati newspapers and national magazines. He was active in community activities, especially with the
Norwood Presbyterian Church
.
Mr. Betty
lived on Ash Avenue, near Norwood Avenue, in East Norwood. He was an assistant cashier for the Bell Telephone Company, according to the
1896 Norwood Directory
.
J. A. Knapp
, another East Norwood resident, lived on Oak Street, near Harris Avenue. He illustrated the covers of the brochure as well as various drawings inside it. He did artwork for the
U. S. Playing Card Company
,
Prof. John Uri Lloyd
's novel
Etidorpha
, an extraordinary set of Tarot cards and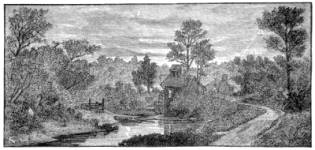 at least one illustration for
McGuffey's Eclectic Readers
(for Samuel Goodrich's poem "Good Night" in the Fifth Reader, Revised Edition) .
R. P. Bellsmith
supplied the photographs used in the book. He lived on the corner of Forest Avenue and Smith Road, now the location of the Sharpsburg Primary School Building.
H. W. Weisbrodt
, a Cincinnati engraver, made the photographs into half-tones, so they could be printed.
Ault & Wiborg Company
of Cincinnati supplied the ink.
Knight & Co.
, Cincinnati, printed the book.