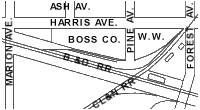 The
Boss Washing Machine Company
was located at 2339 Harris Avenue, at the southwest corner of Harris and Pine Avenues. To the east, on the other side of Pine was the
Norwood Water Works Pumping Station and Electric Light Facility
(W.W. on this early 1900's map). To the south was the B. & O. S. W. Railroad tracks. To the west was a dwelling. At 2335 Harris Avenue, on the
Boss
property, was another dwelling, perhaps for the plant manager.
In those days, Pine Avenue went to the tracks, and Marion Avenue went across the tracks and connected with an eastern extension of Elm Avenue, which ran into a northern extension of Floral Avenue. A similiar path is now taken by Wall Street and Wesley Avenue, although Wesley stops short of connecting with Floral Avenue at Park Avenue.
On a Monday afternoon, November 10, 1913, the
Boss
factory was destroyed in one of the worst fires in Nowood's history. The fire, which apparently started in the second floor machine shop, grew so quickly that the
Norwood Fire Department
had to call for the help of three Cincinnati Fire companies. The flames were pushed by the winds in all directions, causing damage to surrounding structures. The nearby
Norwood Water Works and Electric Light Plant
was severly damaged for an estimated $5,000. The electric production of the facility was stopped for a day or so, while the city's street and commercial lighting was supplied with electricity by the nearby Bullock Electric Company. The heat also melted electric wires from the plant, causing hazards to the firemen and others. On Park and Harris Avenues, homes and businesses were threatened by the wind-blown embers. All that was left of the
Boss
plant was the west wall.
A couple of days later, Louis Dietz, the
Boss
President, said, although the company would temporarily locate in Cincinnati, it would rebuilt at the old
Norwood
site, because of the railroad facilities. But, he was still upset, and said that the fire protection and water supply was inadequate, and to solve that problem,
"Norwood must be annexed by Cincinnati."
This talk, of course, was not taken lightly by Norwood residents, one of whom, W. J. Carey, responded with a letter to the newspaper. As a 25 year-long resident of
Norwood
, and a representative of many of the insurances companies covering the losses, he felt that he had a unique perspective on the situation. He went on to list the capabilities of the city, and that these would not be improved by annexation with Cincinnati.
Later,
Norwood
's fire fighting abilities were the least of
Boss
's concerns, as the company developed financial problems. In 1938, it reorganized, paying creditors 45 cents on the dollar.
Today, the
Zumbiel Box Company
had a plant at the old
Boss
site with a warehouse constructed over the abandoned section of Pine Avenue and the long-gone water works plant site. The operations moved to Northern Kentucky and the Norwood buildings sit idle. The company also has parking lots on the north side of Harris Avenue, across from the facility.