"Again on the eastern side of the city, at Norwood, on the line of the Marietta and Cincinnati Railroad, there are some fine old homesteads, almost hidden in beautiful grounds. Norwood presents many beautiful landscapes, but one of its most interesting features is its historic connection with our national antiquities. Upon one of the highest elevations in Hamilton County is a mound from which have been exhumed many interesting Indian relics—rude arrow-heads and fragments of yet older household utensils. About forty-five years ago the road from the east to Cincinnati, by way of Columbus, passed through Norwood, and one of the oldest pioneers of Ohio—Mr. J. M. M'Cullough, the agricultural seed merchant, of Walnut Street—well recollects the ponderous wagons passsing through the settlement.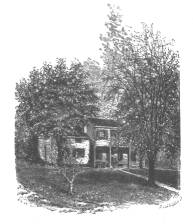 Times are changed now, and the rich and varied collection of evergreens, the teeming orchards planted in his beautiful grounds, present as strong a contrast as could possibly be imagined to the time when the savage red Indian marched, in semi-possession and half dreaded, through the then, comparatively speaking, uncultivated wilds. In those day there was an old woman living at Norwood who kept a wayside tavern, where fire-water was sold, and where many an Indian stopped to drink. She filled out the glass or jug to the teamster and the Indian impartially, like the celebrated Betty Flanagan of whom Cooper sings in his "Spy"—

                "Old mother Flanagan,
                  Come and fill the can again,
                        For you can fill
                        And we can swill,
                  Good Betty Flanagan."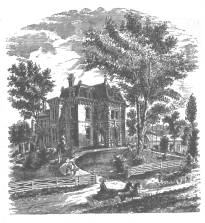 Another beautiful residence at Norwood Heights, built in a more modern style, and in the middle of beautiful grounds, is that of Col. P. P. Lane, of the firm of Lane & Bodley."