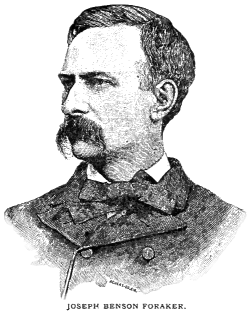 Joseph B. Foraker
lived in Sharpsburg from 1871-1880. He was an early Sharpsburg School Trustee, twice-elected Governor of Ohio and
uncle-by-marriage to Norwood resident and solicitor, William E. Bundy
. He had two
Norwood
streets, Foraker Avenue and Foraker Terrace, and a
Norwood
Republican club named after him. Foraker Avenue is still in existence. Several other streets in Ohio, including one in Cincinnati and one in his birthplace of Highland County, Ohio, have his name, also.
Foraker
was born in Highland Co., Ohio, on July 5, 1846 to Henry Stacey and Margaret Reece Foraker. He died in Cincinnati on May 10, 1917.
His wife, Julia Bundy Foraker
, was the aunt of
Norwood's
Colonel William Edgar Bundy
. At least three, and perhaps four, of their five children were born in Norwood: Joseph Benson, Jr., July 23, 1872; Florence U., ca. 1874, and Clara Louise, ca. 1876. Julia B. was born in January, 1880, probably before they moved from Norwood to Park Avenue in Cincinnati's 1st ward. The son died at the age of 43, in New York City, on April 24, 1915, two years before the father. He is buried at Spring Grove Cemetery, Sec. 86, Lot 144.
---
At the age of sixteen,
Foraker
enlisted in Company A, 89th Regiment, of the Ohio Volunteer Infantry. He served as a lieutenant under Sherman on the march through Georgia. He left the army as captain.
Soon after graduating from Cornell University's first graduating class in 1869,
Foraker
was admitted to the Cincinnati bar.