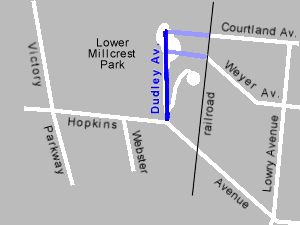 West Norwood; second street from western corporation line, north from Hopkins Avenue to Courtland Avenue.

Described in 1919 Directory as


"3rd w. of Carter, from Hopkins Av., north to corporation line"
Possibly part of C. W. Baker's 3rd Ivanhoe Subdivision. It is not known if buildings were ever on this street, but indications are that there was no development. The street was shown on at least two maps from the 1950s. Today, the street is the entrance to Lower and Middle Millcrest Parks. The parts of Courtland and Weyer Avenues, west of the railroad tracks, which may have connected with Dudley Avenue, do not exist today. Williams' Directories from 1942, 1954 and 1964 described the location of Dudley as follows (note that the street is "not open"):
"Dudley - from 1700 Hopkins av. north to Courtland av (not open)
Weyer av begins (not open)
Courtland av begins"